Undergraduate programs
Would you like to play a role in protecting the environment and improving people's health? Help develop new analytical methods and new drugs?
Chemistry is a way to contribute to our social well-being and the country's industrial growth.
Undergraduate programs in chemistry at UdeM include a wide range of courses covering all facets of this fascinating discipline, from analytical to inorganic, organic and physical chemistry, along with bio-analytical, bio-inorganic, bio-organic and bio-physical chemistry.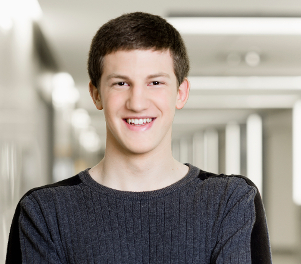 Programs
The Department of Chemistry offers the following undergraduate programs:
Our undergraduate programs at a glance
The BSc in Chemistry leads directly to eligibility as a member of the Ordre des chimistes du Québec (with no admission exam). There are elective courses in 5 areas:
Pharmaceutical and bio-organic chemistry
Bio-analytical and environmental chemistry
Chemistry of materials and biomaterials
Computer-assisted chemistry
General chemistry
Modern chemistry is increasingly multidisciplinary, and the boundaries between subdisciplines are blurring. You will hear about kinetics in your organic chemistry course, quantum chemistry in mineral chemistry courses, organic chemistry in courses on polymer materials, and spectroscopy in analytical chemistry courses.
Support
To ensure optimal learning conditions and encourage academic success, each 1st- and 2nd-year course (undergraduate level) is accompanied by a review session, where students can obtain additional explanations and do practical exercises.
Over these 2 years, the groups remain essentially unchanged, to ease students' integration, group cohesion and teamwork.
Job outlook
Chemists play a key role in a wide range of key areas, including:
Environmental issues
Energy
Pharmaceutical chemistry
Biotechnology
Nanoscience and nanotechnology
Materials
Computer modelling
They are employed in a large number of industries, for example:
Agri-food
Cosmetics
Petrochemicals
Pharmaceuticals
Metallurgy
Environmental
Plastics and rubber
Pulp and paper
According to the latest survey by the Quebec Ministry of Higher Education, Research and Technology, 47.5% of graduates with a bachelor's in chemistry decide to continue their studies, while the same proportion (47.5%) are employed. Of those on the labour market, 89.4% are working full time, most of them in positions related to their degree.
The job outlook for chemists will be attractive in the coming years, in part because of the positive impact of growing public awareness of environmental safety, technological innovations and scientific discoveries.
According to Industry Canada, the Canadian pharmaceutical industry stood 7th in the world in terms of growth over the 2009-2013 period (annual rate of 2.2%). Moreover, Quebec accounted for 43% of all R&D investment in Canada in 2011, the best performance of all the provinces.