X-Ray Diffraction Laboratory
The X-Ray Diffraction Laboratory provides access to a wide range of X-ray diffraction analysis services such as powder sample analysis and full crystal structure determination. These services are available to University research teams, academic institutions, laboratories and private companies.
LABORATORY SERVICES
You will find below a non-exhaustive list of services provides by the Laboratory.
General diffraction
Analysis and identification of polycrystalline samples by X-ray diffraction
X-ray diffraction of films or fiber in reflection or transmission mode
Small angle X-ray diffraction / scattering
Variable temperatures X-ray diffraction for studying transformation, phase transitions or desolvatation processes
Texture analysis, pole figures
Microdiffraction, 2-dimensional X-ray diffraction, mapping and combinatorial measurements
Single crystal analysis
Sorting and selection of single crystals
Diffraction test
Crystal mounting, including air, temperature or moisture-sensitive samples
Unit-cell lattice parameters, symmetry or space group determination
Face indexing of single crystals
Complete crystal structure determination for organic or inorganic molecules at room temperature or low temperature
Crystal structure analysis with geometry data (bond lengths, bond angles, conformation) and report with high-quality molecular plots
Procedure
To submit a sample, download the submission form or fill the on-line submission form. You can also send an e-mail to arrange a meeting or to check the pricing.
Note that a submission is fully considered once the quality of the samples has been checked by an optical examination with a polarized light microscope to see if they are appropriate for a single crystal X-ray diffraction study.
Rapid or advanced search in the Cambridge Structural Database
INSTRUMENTS
With a total of 6 instruments, the Laboratory is able to perform a broad range of applications including the data collection on single crystal for structural determination, general X-ray powder diffraction, sample identification, variable temperature studies, polymer/fiber diffraction, and even more specialized techniques such as texture or stress measurements.
Single crystal X-ray diffractometers
Microstar System - X8 / Proteum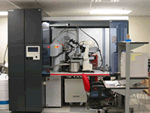 This instrument uses a FR591 rotating anode generator with a mirror focusing optics giving a high brilliance X-ray flux enabling the analysis of very small and weakly diffracting single-crystals.

The detector is a CCD camera for fast acquisition of the diffraction frames. A cryogenic system using liquid nitrogen is used to freeze the crystal and limit the radiation damage. The diffractometer includes a robot for automatic mounting of frozen crystals stored in a deward filled with liquid nitrogen. It can be used for fast screening of crystal quality, including protein crystals.
The motorized goniometer head (in red on the picture) is able to center automatically the crystals.
Smart 6000 system - FR591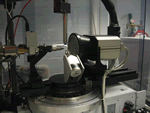 This instrument from the biochemistry department is accessible following an agreement between the chemistry and biochemistry department. The X-ray source is a FR591 rotating anode generator. The goniometer is mounted on a three circles platform in a similar setting as for the APEX II system.
APEX II system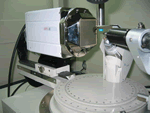 This instrument is mounted on a 3-circle platform and use an APEX II CCD camera. It is suitable for routine single-crystal diffraction studies using a conventional sealed-tube X-ray source generated with a molybdenum anode. The diffractometers includes a cooling device enabling low temperatures experiments. The new-generation CCD detector allows a fast exposure time. This instrument is typically used for organo-metallic compounds and products that includes elements with high absorption coefficient when measured with copper radiation.
General and X-ray powder diffraction
D8 Advance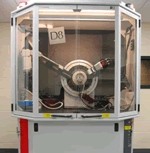 This diffractometer collects with high angular resolution (down to 0.008 degrees in two-theta) powder X-ray diffraction patterns of polycrystalline samples. With the multi-channels detector (VANTEC), fast acquisition of scans are possible, in less than 2 minutes under favorable conditions. This diffractometer can also be used for routine measurement when sample are available in large quantity. An automatic sample loader is available for this purpose.
D8 Discover / GADDS / Combinatoire D8 Discover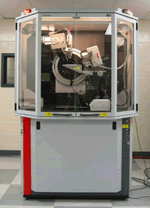 This diffractometer has a multiwire areal detector (HI-STAR) filled with a Xe/methane gas and a XYZ platform for mounting sample. The X-ray beam is focalized on the sample area to be analyzed by a laser coupled to a video microscope.
The goniometer has a theta/theta geometry where both the detector and the X-ray tube source can move. The instrument can be used either in reflection or transmission mode.
It is possible when using a special optical device to measure small quantity of sample (with a irradiated sample area of some micrometers only).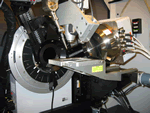 The motorized XYZ platform enables the sequential measurements of several points on flat samples like polymer or thin films. Combinatorial wells library can be analyzed in this way. Surface of massive sample can be mapped by measuring diffraction patterns on several points of the surface to get information on the sample texture.
D8 Discover / GADDS D8 Discover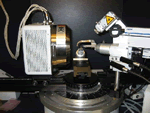 This instrument uses the HI-Star area detector mounted on a standard 3-circles goniometer platform. It can be used for general diffraction measurements, low angle X-ray diffraction or scattering studies, texture analysis or stress measurements. A large game of samples like polymer, liquid crystals or fibers can be investigated.
RATES
All prices are in Canadian dollars (CAD).
Single-Crystal Diffraction
| | | | |
| --- | --- | --- | --- |
| Service | Université de Montréal | External Universities | Industry |
| Full 3D Structure Determination | 200 $ | 200 $ | 800 $ |
| Supplementary Data Collection Day | 20 $ | 20 $ | n.a. |
| Fast Data Collection / Resolutionb | 50 $ | 50 $ | n.a. |
| Data Collection | 120 $ | 120 $ | 350 $ |
| Standalone User | 70 $ | 70 $ | n.a. |
| Standalone Fast Data Collectionb | 20 $ | 20 $ | n.a. |
| User Training | 500 $ | Contact Us | n.a. |
a Academic users not associated with UdeM pay the same fees as in-house users, but the University appends a 15% administration fee to any outside incomes. These are included in the amounts shown in the table..
b A quick collection is an experiment of less than one hour, which (usually) enables to get the structure, but does not provide sufficient data for a publication. If the crystal is not the desired product, then the experiment can be stopped immediately. This possibility was introduced for standalone users in 2012.
General / X-ray Powder Diffraction
| | | | |
| --- | --- | --- | --- |
| Service | Université de Montréal | External Universities | Industry |
| Pattern Recording, PDF Database Search, Phase Identification, Basic Report | 30 $ | 30 $ | 130 $ |
| Pattern Indexing, Unit-Cell Lattice Parameters | 100 $ | 100 $ | 200 $ |
| Extended Report, Crystallinity Index Evaluation | 130 $ | 130 $ | 230 $ |
| Variable Temperature Experiment (Total) | 60 $ | 60 $ | 100 $ |
| Kinetic Studies, Real-Time Measurement | 60 $ | 60 $ | 100 $ |
Other Services
| | | | |
| --- | --- | --- | --- |
| | Université de Montréal | External Universities | Industry |
| Cambridge Structural Database Search | 100 $ | 100 $ | 200 $ |
| User training (Instruments) | 150 $ | 300 $ | Contact Us |
| Publications Assistance (Figures, Atom Numbering, etc.) | 100 $ | 100 $ | Contact Us |