Laboratoire de caractérisation des matériaux polymères (LCMP)
The Laboratory brings together an advanced platform in the field of polymer materials. The LCMP facilities include several calorimetric techniques (DSC, TGA and ITC), size exclusion chromatography and light scattering, zeta potential, andX-ray (SAXS). In LCMP, all external reports are signed by a member of the Ordre des Chimistes du Québec.
OTHER SERVICES
Other services
In addition to the facilites listed above, other services are available at the LCMP: imaging analysis services (AFM, STM, LFM, MFM and EFM), vibrational microscopy (FTIR and Raman), spectroscopic ellipsometry, and surface plasmon resonance (SPR).
How to get here
RATES
Rates
LCMP service rates
Fees for analysis with report
| | Academic | Industrial |
| --- | --- | --- |
| TGA | 75$/sample | 180$/sample |
| DSC | 75$/sample | 180$/sample |
| ITC | to come | to come |
| GPC with calibration curve | 80$/sample | 250$/sample |
| GPC-SLS | 70$/sample | 275$/sample |
| Dn/Dc | 250$ | 400$ |
| GPC triple detection | 90$/sample | 300$/sample |
| DLS | 50$/sample | 150$/sample |
| SLS-Horiba | 50$/sample | 150$/sample |
| Training | 60$ | 120$ |
| SAXS | to come | to come |
For an urgent need, 50% extra is applicable (within 48 hours).
For self-service, rates are lower than those indicated in the grid. See section "information".
Training
For any new user, a practical training on the system is required. Training rates are:
Personal training (one person) is 60$ for academic, except X-ray formations that are 70$.
Services and access policy
LCMP is a multi-user platform accessible to the scientific community (academic and industrial) for reasonable user fees. Here is a glimpse of LCMP services:
Training, supervision, and support in daily instrument use.
Professional services of analysis and sample characterization; along with data interpretation support.
Advices and feasibility study: preliminary and exploratory studies to help judging the relevance of a technology for specific needs.
Method development support.

Free service and Reservation rules
Training is required before accessing the booking site.
To make a reservation, simply visit our website: LCMP Reservation SERVER and follow the instructions page.
CHROMATOGRAPHY
Size Exclusion Chromatography
Analyses can be performed in water, tetrahydrofuran (THF), chloroform (CHCl3) and dimethylformamide (DMF).
Analysis via a calibration curve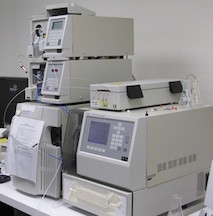 - Relative molar masses Mn, Mw and Mz relative, and polydispersity
- Several standards available depending upon solvent (mobile phase)
Multiangle light scattering detector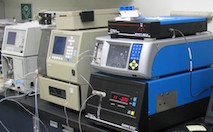 - Absolute molar masses Mn, Mw and Mz (without calibration curve) and polydispersity index. dn/dc must be know
- Radius of gyration (Rg) can be obtained
Triple detection analysis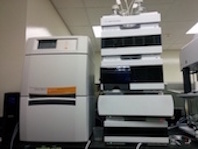 - Analysis can be made carried out via a standard calibration curve, by universal calibration or by light scattering
- The combination of the three detections allows a better accuracy on the calculated molecular weights
Determination of particle size
Malvern Zetasizer systems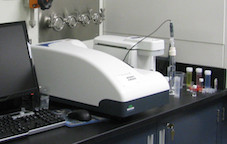 - Dynamic light scattering (DLS)
- Particle size, Rh, from 1 nm up to 6 um per sample
- Analysis in aqueous medium and organic solvent
- Zéta potential analysis
Brookhaven BI-200SM system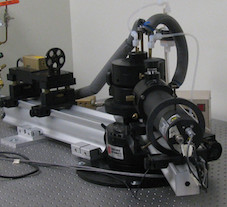 - Dynamic and static light scattering (batch mode)
- Mw, Rg and A2 available from the Zimm plot
- Rh available at with several angles (for asymmetric particles)
Horiba LA-950 laser particle size analysis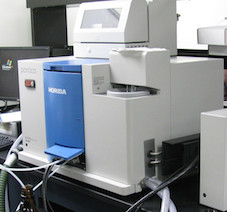 - Static light scattering with Mie diffusion
- Range between 10 nm and 3 mm
- Analysis in aqueous medium or in dry conditions
CALORIMETRIC ANALYSIS
Calorimetric analysis
Differential scanning calorimetry (DSC)
Differential scanning calorimetry (DSC) allows the determination of phase transitions :
Glass transition temperatures (Tg) of polymers, metallic glasses and ionic liquids


Melting (Tm) and crystallization (Tc) temperatures


Enthalpies of reaction, degree of crosslinking determination of a polymer
LCMP is equipped with 2 high-performance DSC -TA DSC Q2000.
Features
Very flat baseline
Temperature range from -94 to 400°C for scanning rate up to 200°C / min
Autosampler (50 positions)
PhotoDSC: in situ crosslinking reactions in the DSC
Modulated DSC to separate reversible (thermodynamics) and irreversible events (kinetic)
To avoid sample degradation or spills in the DSC, TGA measurement is mandatory for any new set of samples.
Thermogravimetric analysis (TGA)
Thermogravimetric analysis (TGA) measures the decrease in mass of a sample as a function of time for a given temperature or a temperature profile.
The TGA is usually used for:
Degradation temperatures determination,
Percentage (%) of solvent or moisture residues absorbed or crystallised in the material,
Proportion of organic to inorganic material,
Estimation of the oxidation kinetics at high temperature,
Thermal stability profile of a compound in a non-oxidizing gas.
Performance characteristics of the TGA: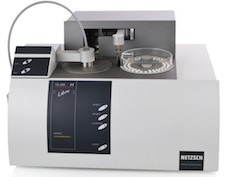 Experimental temperature range from ambient to 1000°C.
Vector gases: nitrogen, air or argon.
High resolution and sensitivity module available.
Scanning rate from of 0.1 to 100 ° C / min
Isothermal titration calorimetry (ITC)
L'ITIsothermal titration calorimetry (ITC) is used to determine the thermodynamic parameters of interactions in solution. It is most often used to study the binding of small molecules to macromolecules (proteins, DNA etc.).
Binding affinity

Affinity KD
Binding Heat - ΔH
Number of binding sites \ stoichiometry - N

Mechanism of binding
Rational drug design / SAR
Enzyme Kinetics
ITC MicroCal 200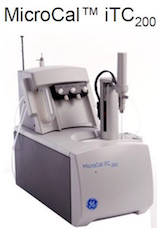 Temperature range : 2-80 °C
Pulse titration of equal volumes or continuous injection titration
ITC 200: Cell of200 μl and syringe of 70 μl, injection volume of 40 μl, stirring speed: 750 rpm, temperature stability of 1.5 x 10-4 °C
VP-ITC: Cell of 1400 μl, injection volume of 300 μl, and stirring speed: 800 rpm
SAXS
NANOSTAR with 2D detector GiSAXS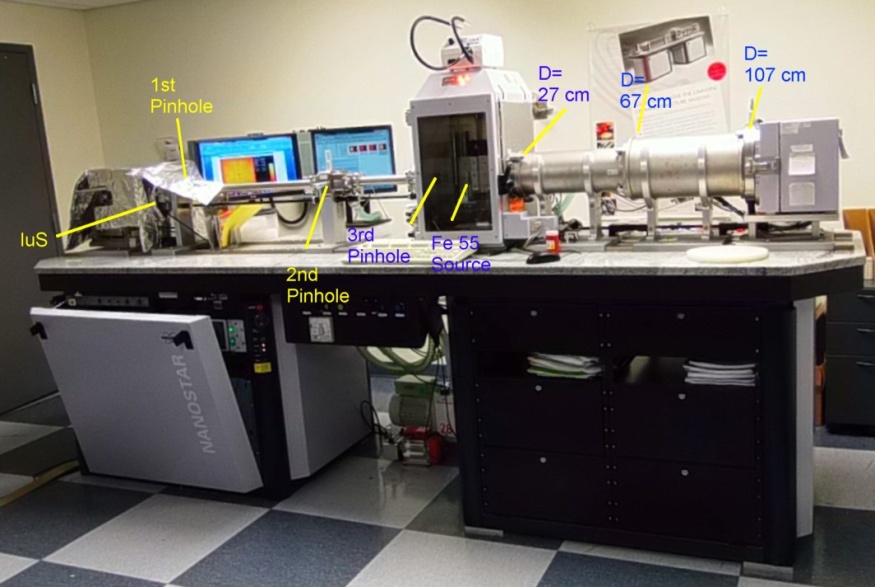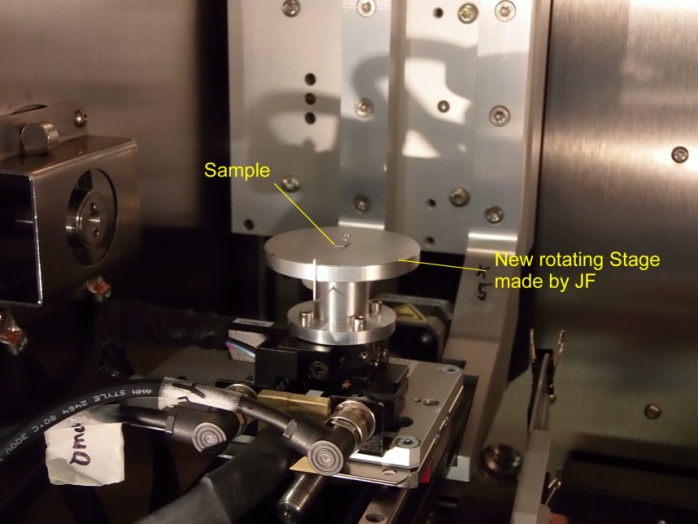 SAXS allows the determination of the lamellar organization of materials.
In GISAXS for condensed materials, it is possible to determine the organization of a thin layer of material deposited on substrates.
Four sample detector - Distances (D) are available from SAXS to WAXS: 107, 68, 28, 13 cm.
Sample to detector distance (D)

2θ min

(°)

2θ max (°)

Full circle/Detector corner

107 cm

0.07

3.01 / 4.16
SOUTIEN
Le LCM bénéficie du soutien financier des organismes suivants :
ADRESSES / LIVRAISONS
Thermal and Chromatographic Analyses, and Particle Size Determination
Sylvain Essiembre (M. Sc.)
Pavillon J.-Armand-Bombardier, bureau 2050
Téléphone : 514 340-5177, poste 7420
Télécopieur : 514 340-5290
SAXS\ WAXS
Francine Bélanger (M. Sc.)
Pavillon Roger Gaudry, local A-634
Téléphone : 514 343-6111, poste 3937
Télécopieur : 514 343-7586
Postal Address
Laboratoire de caractérisation des matériaux polymères (LCMP)
Université de Montréal - PJAB
Département de chimie
C.P. 6128, succursale Centre-Ville
Montréal (Québec) H3C 3J7
Messaging delivery address
Laboratoire de caractérisation des matériaux polymères (LCMP)
Université de Montréal - Département de chimie
Pav. J.-Armand Bombardier (PJAB), Local 2050
5155 av. Decelles (Campus UdeM)
Montréal (Québec) H3T 2B1